My family profession is Farming! We grew (still do) rice, cashew, coconut, banana, etc., in a village and had cattle too. That's right! Some of my friends were astonished when I told them I milked cows and chased wild bores out of rice farms. Back in those days we had daily labours for doing various jobs in farm. There were million different jobs in farm as compared to my current profession (developer, tester and manager). Out of them only few men specific jobs, rest were common. Anyway, in any of those jobs women were paid 25% less than men, even if they did same job. When I asked my grandfather about this discrimination, he told "otherwise men will refuse to work! They need this discrimination to work". Also, he told it is only in some phirangi countries you can expect equality. Now I am in a phirangi country and he was right, there is equality.
Right, now in the context: I went to this British movie "Made in Dagenham", while whole town queued up for some Zac Efron flick. There was hardly anyone in this screen while I could hear Enthiran beats across the walls. Anyways, this movie was about a small number of women machinists of Ford factory in Dagenham, making history!. This is where the ignition for "equal pay movement" happened, which swept across industrial world and government realised women deserved same pay as men for same job. Movie review: It's awesome; I hope it will get some more recognition and awards.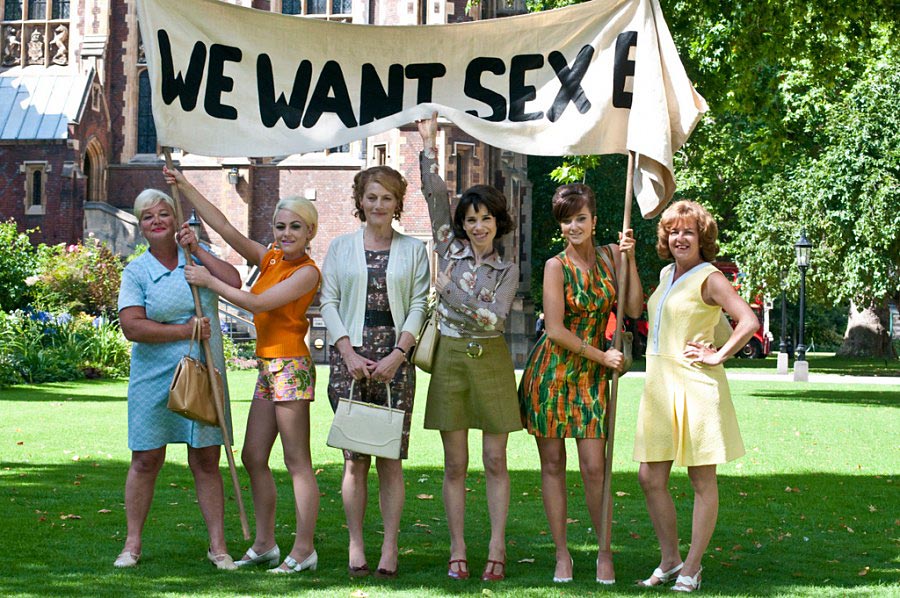 image via filmofila
I was aware that a revolution like this happened in Europe, but I was totally unaware that it happened as early as 70s. That gave me a shock. Just 40 years back in United Kingdom, women were paid less than men, just for one reason – they were women! I was under impression that equality existed since centuries!
I am gonna phone my friends in village sometime and find out if things have changed.
Update
Infographics on "History of women in workspace"