Garuda Gamana (refers to Vishnu) and Vrushabha Vahana (refers to Shiva), appropriately named after two childhood friends who went on to become an underworld outfit of the city of Mangaluru (previously called Mangalore). Then there is a police officer who orchestrates the events during the latter part of the storyline and hence appropriately named Brahmaiah.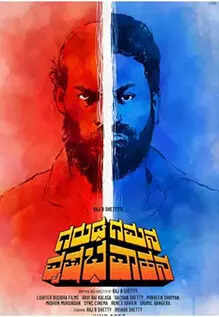 Internet calls this an exceptional and deep Kannada movie and highly coupled with mythological characters. It's an exception, alright; I have no dispute there. It's refreshing to see a good Kannada movie of an industry that is otherwise infested with mediocrity. However, I wouldn't call it deep, though. It indeed uses directional trickery and intelligent script, but not very deep. Not shallow, that's for sure, which otherwise is a stereotype of this industry. And the movie being in Kannada, well! Unless you have a close friend, who speaks the Mangalore Kannada dialect, you will not appreciate the quirks of the dialect.
I'm afraid I also disagree with the 'mythological connection'. Hari, the supposed preserver among the trinity, hardly preserves anything. The Shiva, a pot-smoking destructor, can dance tandava upon his victim, and that's where the comparison ends. Brahmaiah, on the other hand, is shit scared against these two, the thoughts of which makes him cry like a little kid even before the first over been bowled. I have known people from Hassan very well, and Brahmaiah hardly fit that frame. A little more grit would've been nice.
What worked for me:
Outstanding acting, exceptional direction, a good script, excellent background score, bold deception of gore, keeping it simple, local quirks, use of language, cinematography, cultural depiction, clever use of Symbolism and so on and on.
Special attention was given to make it local; be it underarm cricket, Navaratri tiger dance, gutting the fish and many more – all overwhelmingly Mangalorean
The movie is utterly devoid of women unless it was absolutely a necessity. I am not saying it's good or bad, but it's an entirely different way of telling a story, unusual.
The movie does not consider the audience as idiots, especially about Symbolism. A sweet Pan, sports shoes, the weight of a cricket bat all have meaning, and they convey the story collectively.
What did not work for me:
I noticed the trinity did not have surnames. Let me remind you, all Mangalorean's have surnames, which generally gives out clues on what language they speak, lunch they eat, and God's they prey. It looks like the creators of the movie did not want to risk offending any community by assigning surnames for a Don, a hitman, and a toothless cop. However, they did not think twice before using hymns in the background of gory scenes, which definitely would risk offending someone. This is inconsistency or even probably a tinge of hypocrisy.
Again, for a movie that is exceptionally local and highly specific for a region, the theme music is made at par with a James bond movie. This does not fit well at all.
There is a clever use of a folk song, Sojugada sooju mallige, a version of which recently went viral. This was used as a background score when Shiva does a tandava. However, the dialect of this song is not Mangalorean. When creators have become purists in attire, custom, language etc., this song will seem force fit. It is a beautiful song, by the way.
That's it – that's my post. Now please go watch the movie. It's a masterpiece.